Getting the Balance Right
A Coventry HR Manager's career has gone from strength to strength, building on the solid foundations and experience gained through an apprenticeship with Coventry and Warwickshire Chamber Training 25 years ago. From those invaluable beginnings as a business and finance apprentice at Coventry University, Scott Williamson developed his skills, going on to manage the intake of apprentices at the university, many of whom are still working there today, before taking up his current role in HR at Coventry Chemicals three years ago.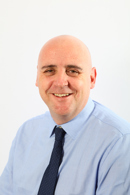 Commenting on his career Scott said: "When I left Coventry University, I gained further experience working for the NFU, AAH Pharmaceuticals and TSYS Managed Services before joining Coventry Chemicals in 2015.  It was my responsibility to develop the company's workforce, as part of our future growth plans.  I saw apprenticeships as the ideal vehicle to do just that.
"Working in partnership with Coventry and Warwickshire Chamber Training, we give young people the opportunity to study, learn and work, a strategy which forms part of the firm's on-going succession plan.
"We have already recognised the continued value of apprenticeships as the candidates we chose are keen to learn and grow within the firm.  A number of our apprentices have performed so well that they have secured great jobs with us. We are also seeing a return from our investment in apprentices and it is a definite growth strategy for our business.  Coventry and Warwickshire Chamber Training is already working with us to recruit further apprentices and it is great to have their support and guidance in placing the best possible candidates with our firm.
"My original decision to embark on an apprenticeship was definitely the right choice.  In doing so, I was able to continue with my studies whilst gaining work experience and receiving an income. The experience I gained was invaluable and I attained qualifications and a career path.  The team at Coventry and Warwickshire Chamber Training also provided me with a fantastic support network and guidance and I have continued to work in partnership with them in my current role," he concluded.
Coventry Chemicals has been established since 1967.  Coventry Chemicals Ltd manufacture and supply cleaning liquids, powders and tablet products to suit all professional, retail and export cleaning and hygiene requirements. We offer our customers and consumers a specialist range of products to clean their living and working space and are driven by a commitment to quality and customer service.
Photo caption: Scott Williamson, HR Manager at Coventry Chemicals.