Health & Social Care Employers' Update
Coventry & Warwickshire Chamber Training recently hosted an exclusive briefing for Health & Social Care employers to announce new changes in their profession.
The briefing covered new funding arrangements and highlighted important Apprenticeship updates including level 4 and level 5 Apprenticeships and End Point Assessments. It also examined changes in learning loan qualifications, the national minimum data set for social care and workforce funding plus and the importance of training for staff in areas such as mental health.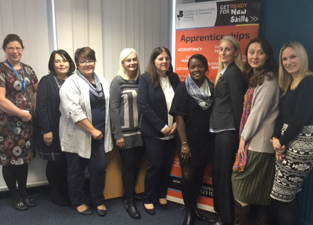 Jan Ryan, Operations Director at Chamber Training commented: "Our employer briefings provide important updates for employers and their responsibilities.  The feedback we get from our events hosted at our training centre in Coventry is excellent.
"Our expert speakers for the day were from Skills for Care, Warwickshire County Council, Skills for Growth and Chamber Training advisers on Apprenticeships and Skills for Growth training. It is important for employers to keep up to date with the new standards and look at ways of improving the performance of Apprentices within the workplace and enhancing assessment criteria.
"For those companies who are thinking about taking on Apprentices, the funding arrangements for Apprenticeships are accessed via the Levy for larger employers or 90% from the Education and Skills Funding Agency with a 10% contribution from business. For smaller employers (under 50 staff) employing a 16-18 year old apprentice the training is fully funded.  All employers will receive £1,000 incentive for 16-18 year old apprentices. So if you would like to discuss how we can help you find suitable Apprentices for your industry or perhaps you you'd like more information about training and development for your staff, please get in touch."
To find out more, please contact the Business Development Team at Coventry & Warwickshire Chamber of Commerce Training on 024 7623 1122 or email enquiries@cw-chambertraining.co.uk
Words: 322
Photo caption: The speakers at Chamber Training's Health & Social Care Employers' Update.