Recognition for Young Apprentice
Heather Tosh, an Early Years Care (EYC) Apprentice at a Coventry nursery has been nominated as a great ambassador of apprenticeships to other young people in schools starting out in their careers.
Manager at The Playhouse Nursery, Mary Kefford said: "I was looking for good interaction with the children from Heather as it's a very hands-on role that demands lots of enthusiasm, energy and attention to detail. I quickly realised that Heather would be a perfect choice and she has since proven to be a committed and motivated young member of the team.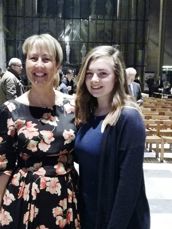 "Heather has also taken on responsibility as a Key Worker for specific children, liaising with their parents and making detailed records about their progress.  We are thrilled as she is already making a massive contribution to the overall success of the business which is impressive considering she's only been with us a year."
In February 2018 Heather will be qualified at level 2 in EYC as a nursery assistant.  Her future career progression includes level 3 EYC Apprenticeship so she can train to become a fully qualified nursery practitioner.
Anne Thomas, CWCT's Training Adviser for the Playhouse Nursery commented: "We have been in a close and effective partnership with Mary at The Playhouse Nursery for over five years. With our support and guidance, Mary has taken on a number of apprentices including nursery practitioners as a core part of her training progression plan for her staff."
In recognition of Heather's outstanding achievements and the standard of care she provides to the children, she was nominated in the Child Development and Well Being category at this year's Apprentice of the Year Awards 2017.
Photo caption: Shown on the right: Heather Tosh is seen with her Manager, Mary Kefford