Success in Numbers
Coventry & Warwickshire Chamber Training has been offering Accountancy Apprenticeships for over 20 years and has experienced many changes over that time. In particular, over the last 12 months as a result of  government Apprenticeship reforms which have seen the introduction of a business skills element to the programme. This was swiftly embraced by the team introducing theme based workshops in areas such as Managing Change, Time Management, Professional Report Writing to name just a few. 
At the firm's training centre in Radford, Coventry there is a dedicated Accountancy team with many years' experience in providing Accountancy Apprenticeships who are skilled in the training and development of individuals together with supporting employers.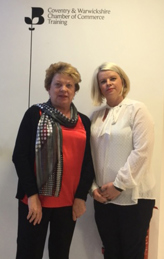 Nicky Cheshire at Chamber Training commented: "Accountancy is a fundamental part of every business, so our aim is to help employers through my role as a designated Account Manager to understand the current apprenticeship programme, including the funding available and the skills required to meet the new standards.  
"An Accountancy Apprenticeship is now available from level 2 through to the new Level 7 Accountancy Taxation Apprenticeship which incorporates the Accountancy Professional Qualification ACCA."
The dedicated Accountancy advisers, Karen Devany and Nicky Cheshire are on hand to support new and existing employers to identify the training and development needs of your staff, source the most suitable candidates for their organisation and ensure they have all the training support required.
Working in partnership with Kaplan Financial Limited, which has an established range of high quality study programmes to support students to success, the accountancy team at Chamber Training provides students with a bespoke classroom tuition, high quality support and 1:1 workplace guidance for portfolio development. Coventry and Warwickshire is forging ahead with its accountancy achievement rates of 91.4% compared to 72.7% nationally, whilst 96% of employers would recommend Chamber Training, which places the training centre in the top quartile nationally.
Coventry & Warwickshire Chamber Training is one of the largest private training providers offering Apprenticeships across Coventry & Warwickshire. It helps and supports businesses to reap the benefits that an Apprentice can bring, including business growth and new fresh ideas.
For more information on Accountancy Apprenticeships, particularly the level 7 Accountancy Taxation Apprenticeship which starts in February 2019, please email enquiries@cw-chambertraining.co.uk
Photo caption: (L to R): Karen Devany and Nicky Cheshire from Chamber Training