Coventry 2021 City of Culture Bid
We are so proud that The Coventry and Warwickshire Chamber of Commerce has reached the gold standard when it comes to supporting Coventry's bid to be UK City of Culture 2021 and we are happy to support this.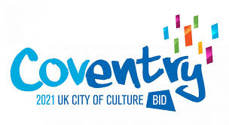 The Chamber became a Bid Development Sponsor very quickly after the city announced it would be bidding for the title, which is currently held by Hull. Not only that, the Chamber has introduced several more potential sponsors to the Coventry City of Culture Trust team and has been actively promoting the bid on its website and on social media.
To show your support for Coventry's bid on social media, go to @Coventry2021 on Facebook, Twitter and Instagram. For more information, visit www.coventry2021.co.uk
Click here to read the full article from The Coventry & Warwickshire Chamber of Commerce.