WE ARE NOW OPEN BY APPOINTMENT ONLY.
Please call us on 02476 231122 to arrange a time to come in. Thank you.
Skills 4 Growth Coventry & Warwickshire
Up to 50% Funding EXTENDED TO
JUNE 2020
Coventry & Warwickshire Chamber of Commerce Training has created a suite of courses aimed to help close the skill gaps in your business that lead to accredited qualifications. 
Courses are available at a range of levels, designed to enhance individual skills and knowledge. 
Company Eligibility:
Small to Medium Sized Businesses (SMEs) in Advanced Manufacturing and Engineering or Service Sector Industries including Health & Social Care
Must be based in Coventry and Warwickshire and meeting Di Minimis requirements
Eligible Training:
Skills training that will close skills gaps in your business and lead to accredited qualifications
Full qualifications or units of qualifications at Level 2 and below
Units of Qualifications at Level 3 and above
Why choose Coventry & Warwickshire Chamber Training?

Coventry & Warwickshire Chamber Training will work with you to identify your needs and recommend an appropriate course, whether that is for existing staff or potential new recruits. 
We are one of the largest providers of vocational training and development in Coventry and Warwickshire, with over 1,200 people engaged in work based training. In addition, we have a long track record in supporting businesses, working in partnership to design and develop training solutions which offer a tangible return on investment.
Courses we offer:
ILM MANAGEMENT DEVELOPMENT LEVELS 2, 3 & 5
AWARD & CERTIFICATE IN EDUCATION & TRAINING (CITY & GUILDS)
HEALTH & SOCIAL CARE DIPLOMAS LEVELS 2, 3 & 5
CERTIFICATE IN MENTAL HEALTH AWARENESS LEVEL 2
INFORMATION TECHNOLOGY DIPLOMA LEVELS 2 & 3
Skills 4 Growth is Funded by the European Social Fund and works alongside Warwickshire County Council and Coventry City Council. 
Please read the Gender and Equality Policy here.

Skills 4 Success!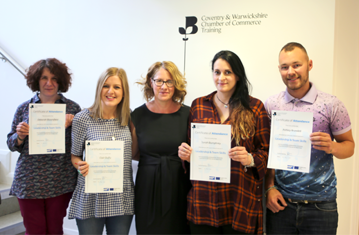 Coventry & Warwickshire Chamber Training is celebrating the first achievement for ILM, supported through the European Funded Skills 4 Growth programme. Read more about the successful managers here