Accountancy Apprentice Announced as Finalist for FirstPro Young Professional Award
Congratulations to Balpreet Bains for reaching the final of the FirstPro Awards 2016 in the Young Professional category.
Coventry & Warwickshire First's FirstPro Awards recognise exceptional professionals in Coventry and Warwickshire, showcasing the depth and breadth of talent within the region. An award for individuals, each category celebrates the leading professional within the relevant sector. 
Balpreet has come on leaps and bounds at Stewart, Fletcher & Barrett after applying for an apprenticeship with C&W Chamber Training in 2013, and is now the auto enrolment specialist at SFB.
Balpreet continuously goes above and beyond for her clients and her employer. Of her own accord she regularly works extra hours to better her client's experience. She has also developed keen sales and networking through attending many local networking groups and has developed some superb relationships with Coventry & Warwickshire businesses.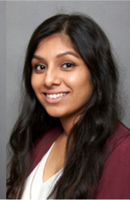 Balpreet now runs the AE department and looks after all of SFB's client base that auto enrolment is applicable for and as such is the face of SFB to many clients. She visits clients on a daily basis to train them on payroll software, ensure they are running their business cost-effectively and they are compliant to all rules and regulations thus avoiding unnecessary fines.
In addition to this, Balpreet is also a key member of the SFB Coventry team. As well as auto enrolment advice, she provides accounting services to SFB's Coventry based clients and wins work for the team in that area driving SFB forward.
Balpreet's contribution to the local community is immense. She is a volunteer helping the homeless and providing food and hunger relief to those that really need it, two days a week, feeding 300+ at a variety of local venues.
Balpreet is a credit to the younger generation of people in business from the Coventry and Warwickshire area. Her dedication and commitment in all that she does, whether in her career, community or hobby, is a shining light in the district.