Apprentice Celebrates World Skills Award
A Chamber Training Apprentice, who is based at a Coventry & Warwickshire NHS Trust, has been awarded a bronze medal at the World Skills UK 2019 Regional competition for her exceptional health and social care skills.
Victoria Winterman, a Lead Adult Care Worker Apprentice at Coventry & Warwickshire Partnership Trust (CWPT) supports individuals with clinical, mental health and physical health needs, impaired communication, vulnerable adults and social care needs. 
Commenting on Victoria's achievements, Charlotte Sutton, Talent for Care Manager at CWPT said: "In order to take part in the regional World Skills UK 2019 competition, Victoria had to compete 140 miles away.  Her determined attitude and enthusiasm certainly paid off when she gained 3rd place and came home with a bronze medal.  She was also ranked within the 121 top Apprentices in the UK - such fantastic achievements and very well deserved.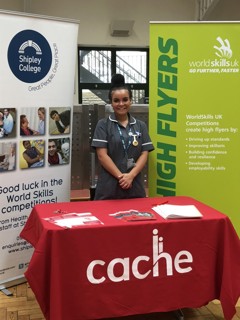 "Victoria has a great work ethos and a sheer determination to learn and develop within her role.  These qualities have already contributed to an award she received earlier this year as one of Chamber Training's outstanding Apprentices of the Year.  Her strong caring skills, empathy and compassion have led to high achievements and career aspirations to become a midwife.  We are confident that she has an exceptional future ahead of her."
Coventry & Warwickshire Partnership Trust (CWPT) provides a wide range of mental health and learning disability services for people of all ages in Coventry and Warwickshire and a wide range of community physical health services for people in Coventry.  The team provides inpatient, community and day clinics, as well as specialist services, to a population of about 1 million people living in Coventry, Warwickshire and Solihull including the provision of specialist services to a wider geographical area.
Christine Giles, Account Manager at Chamber Training said: "We have been working alongside CWPT for a number of years and we continue to source the most suitable candidates to match their specific needs, leading to nationally recognised qualifications. With the ever changing world of the NHS, the mixture of off-the-job ensures that Apprentices have a continued plan of learning whilst existing staff members also benefit from the opportunity to retrain or enhance and develop their career prospects."
To find out more  about Apprenticeships and how they can benefit your workplace, please contact the Business Development Team at Chamber Training on 02476 231 122 or enquiries@cw-chambertraining.co.uk
Photo caption:
 Pictured is Victoria Winterman at the regional World Skills UK 2019 competition.