Apprentice of the Year 2019
A Chamber Training Accounts Apprentice has won 'Apprentice of the Year' at the Coventry Telegraph Business Awards 2019.
Alexis Considine from The Wigley Group demonstrated an outstanding attitude to her Accountancy Apprenticeship, rapidly progressing from level 3, where she gained a distinction, before achieving level 4 AAT Accountancy qualifications as part of her Higher Apprenticeship.  She also played a central role in the company's charity activities, being the youngest member of the team which tackled the Yorkshire Three Peaks Challenge raising over £2,000 for Tiny Tim's Children's Centre.
Sally Lucas, Executive Director at Chamber Training said: "We are absolutely delighted for Alexis.  She has worked extremely hard to earn the award of Apprentice of the Year 2019 and we would like to take this opportunity to wish her every success in her future goals and aspirations.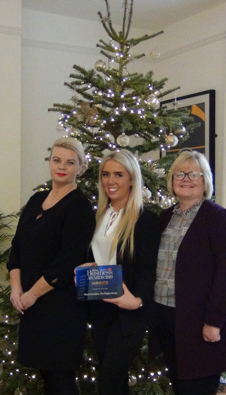 "Accountancy Apprenticeships are very sought after. There is a structured approach to training and developing qualified accountants and they can gain skills that will apply to so many professions.  In addition, the prospective salary for qualified accountants or those working in the financial profession can be attractive. 
"We are currently working with a number of accountancy firms and helping them to provide their Apprentices with a valuable pathway to a rewarding career.  The mixture of on and off the job learning ensures they develop the skills that work best for the business involved.  Apprenticeships can be used to train both new and existing employees and there are highly flexible programmes available, so it is certainly an option for all businesses to consider in their business planning."
Congratulations also go to the three Chamber Training Apprentice finalists - Allana Watson, a Business Administration Apprentice at Coventry & Warwickshire Partnership Trust, Colin Twidale, a Health & Social Care Management Apprentice from Individual Support Solutions and Danielle Mousley, a Vehicle Paint Refinishing Apprentice at XL Motors Accident Repair Centre (in association with Warwickshire Garage & Transport Group Training Association). The awards evening celebrated the 25th anniversary of the Coventry Telegraph Business Awards and Chamber Training was delighted to be a part of the prestigious event. 
To find out more about how Chamber Training can help you to source Apprentices for your business, please call a member of their Business Development Team on 02476 231 122 or enquiries@cw-chambertraining.co.uk 
Photo caption
From left to right: Nicky Cheshire from Chamber Training is seen here with Alexis Considine and Lisa Bristow from The Wigley Group.