Local Hospital Builds Strong Alliance with Coventry & Warwickshire Chamber Training
A North Warwickshire hospital is reaping the benefits after partnering with Coventry & Warwickshire Chamber Training to deliver its Administration Apprentice Programme.
George Eliot Hospital in Nuneaton built an alliance with C&W Chamber Training because of their strong reputation in providing apprenticeship opportunities across the region. Since the partnership began the hospital has been able to offer 16 places for Business Administration apprenticeships within the organisation, and a potential to offer a further nine places. They have also given existing members of staff the opportunity to upskill with a level 3 apprenticeship in Business Administration.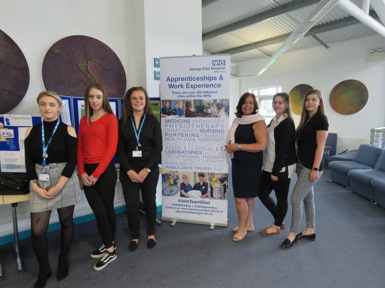 Working with C&W Chamber Training has given the hospital a number of benefits which in turn has helped them recruit more staff. They have a dedicated Business Manager, Christine Giles, who works closely with Sarah Newton; the Hospital Apprentice & Work Experience Manager to ensure the hospital has the support and guidance required throughout the whole apprenticeship programme. All of the taught sessions are delivered on site at the hospital's state-of-the-art GETEC facility, including the essential functional skills element covering maths, English and ITC.
Sue Wakeman, Director of Human Resources, said: "George Eliot Hospital NHS Trust is delighted to be working in partnership with C&W Chamber Training to deliver our Business Administration Apprenticeships. They are one of the largest providers of apprenticeships within the region and their aim is to equip individuals with the skills our workforce need to support business growth, to upskill our workforce and generate new and innovative ideas to support our corporate objectives.
"C&W Chamber Training has been involved in the recruitment of a number of Apprentices to both the Level 2 and Level 3 business administration programmes, so are included at every stage of the Programme. Existing staff members are also in apprenticeships, which is increasing staff retention and raising morale.
"The return on investment for us will be that our workforce will have the skills knowledge and behaviour to be confident and competent in their roles and provide a robust service across the Trust.  Being able to offer a Level 3 administration apprenticeship to existing staff demonstrates they are being invested in and recognised for their contribution to the day to day running of the hospital," Sue concluded
Photo caption: Left to right – Lauren Grantham, Molly Tallis, Ellie McCann, Melloney Clarke, Adele Linekar, Rachel Mosey.