Making A Difference to Children's Care and Education
Apprenticeships through Coventry & Warwickshire Chamber Training have proven to be a successful pathway for two brothers, Joel and Daniel Silber, whose careers in children's care and education are going from strength to strength at Beatle Woods Ltd, an outdoor nursery, situated in a 10-acre woodland site in Balsall Common.
Joel Silber achieved his apprenticeship at level 2, before progressing to advanced learning at level 3 (early years educator) which he is on track to successfully complete. Joel's brother, Daniel Silber, is following in his brother's footsteps taking up an apprenticeship in children's care and education (early years practitioner) in the midst of the pandemic in 2020.  The brothers are truly inspirational role models, demonstrating excellent skills and knowledge of their profession.
As a leading provider of apprenticeships and business-to-business training courses, Chamber Training has a strong track record of working in partnership with employers to design and deliver apprenticeships that meet their specific requirements.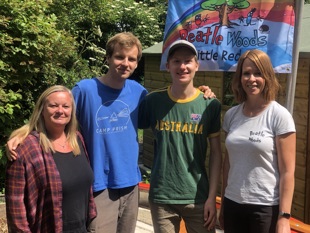 Commenting on Joel and Daniel's success, Rachel Macbeth-Webb, Founder and Manager of Beatle Woods said: "Our first truly outdoor nursery in the West Midlands was set up in 2017 to provide care for children aged from 2 to 5 years old and it has grown from an initial group of 5 staff to 16.  The children spend all day outside, engaging in activities of their choice. We do not plan ahead or structure our days as we believe children learn best when they feel a sense of autonomy and are empowered to then develop resilience, high levels of self-esteem, and independence.
"Working in partnership with Chamber Training has proven to be an extension of ethos of Beatle Woods.  Gill Dickson, our Training Adviser at Chamber Training, has provided us with a dedicated and personalised one-to-one support programme.  She has helped us create solutions to any challenges we have encountered. 
"Our first-ever apprentice, Joel, applied for an apprenticeship position with us in 2019 and the team at Chamber Training provided him with the right guidance and support to enable him to excel on his apprenticeship.   Daniel then joined us in September 2020, after originally looking at a teaching assistant, but he realised his passion and also embarked on the early years practitioner apprenticeship. He went on to achieve his apprenticeship at level 2 with a distinction and will progress to his advanced level 3 in February 2022.
"Having a male perspective in the nursery works extremely well and the children love them. They both offer a unique approach to child care that works extremely well.  We currently have four apprentices with Chamber Training and we look forward to continuing our partnership with them."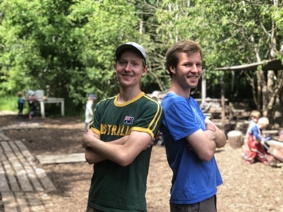 Commenting on his progress, Joel remarked: "The team at Chamber Training has been so supportive and approachable.  Gill has regularly helped me to address and deal with challenges. I am really thankful for the guidance and advice I have received."
Daniel added: "I really enjoyed working four days at the nursery and one-day off-the-job training at Chamber Training. It has offered a nice working balance and I am able to come up with new, inspiring ideas each week, which helps me in my job."
Gill Dickson from Chamber Training concluded: "We are delighted to have worked with Joel and Daniel.  They have shown a natural ability when working with children and we are pleased to have been part of their career success. We are currently working with a number of nurseries and children's care settings to provide relevant, tailored and structured learning pathways to support businesses to develop qualified staff.  If you're looking to recruit an apprentice or train your existing staff, we can help you on that journey."
To further information about Chamber Training's Apprenticeship Programme, call 024 7623 1122 or enquiries@cw-chambertraining.co.uk
You can find out more about Beatle Woods on their website www.beatlewoods.co.uk 
Photos:
Photo 1 (L:R): Gill Dickson, Chamber Training, Joel and Daniel Silber, and Rachel Macbeth-Webb from Beatle Woods.
Photo 2 (L-R): Two apprentices, Daniel and Joel Silber from Beatle Woods.