2021 Course Directory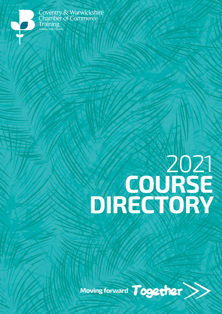 CLICK HERE to view '2021 COURSE DIRECTORY'.
At Coventry & Warwickshire Chamber of Commerce Training, we continue to maintain an excellent reputation for delivering high-quality training.  Our courses are delivered virtually on MS Teams as well as face-to-face and onsite at employer premises for bespoke programmes. 
As one of the largest independent training providers offering Apprenticeships across Coventry & Warwickshire, we have experts on hand to offer up to date advice and guidance. 
 All courses can be booked online today at www.cw-chambertraining.co.uk
 Our Course Directory 2021 will include topics such as:
If you have any queries, please call our Business Development Team on 024 7623 1122 enquiries@cw-chambertraining.co.uk