Advent Calendars Appeal to Support Local Children
Coventry & Warwickshire Chamber of Commerce Training is supporting an advent calendar appeal for Coventry children who are living in hostels, domestic violence units and temporary accommodation.
According to Child Poverty Action Group, a UK charity that works to alleviate poverty and social exclusion, , there are now 3.9 million children living in poverty in the UK which is an increase of 200,000 in just one year.  The Government has focused on making work pay, but two in three children who are in poverty have a parent who is in work.
Commenting on appeal, Sarah Williams, a Training Manager at Chamber Training said: "For the past few years, we have been collecting advent calendars for children in poverty across Coventry with great success. Last year we managed to collect over 70 advent calendars, so we would love the match or beat that number this year.
"The advent calendars will be hand delivered around Coventry to lots of children who are living in poverty. We are delighted to help them with these donations and each calendar will make so many children happy."
To find out more, contact Sarah Williams at Chamber Training on 024 7623 1122 or enquiries@cw-chambertraining.co.uk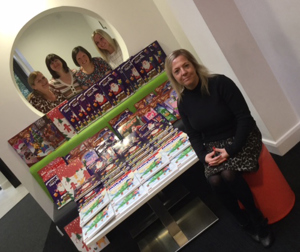 Pictured is Sarah Williams. Training Manager at Chamber Training with colleagues.