Bespoke Training Solutions with Chamber Training
Coventry & Warwickshire Chamber Training offers an extensive range of bespoke training, specifically designed for businesses and their individual training needs.  This increasingly popular approach to training presents businesses with excellent cost-effective solutions.
As one of the largest providers of training and development in Coventry & Warwickshire, Chamber Training has a long history in supporting businesses, working in partnership to create a workforce to meet the needs of customers and the demands of today's business environment.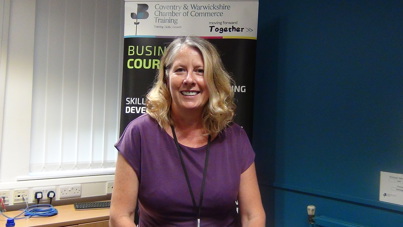 "Training solutions can be selected from our main suite of seminars including Time Management; Managing Change; Project Management; Effective Sales and Communication; Business Planning and Appraising People and Performance.  Alternatively we can research and design training programmes tailored specifically for an employer.
 "As a delivery partner of Coventry & Warwickshire Skills4Growth, eligible businesses are able to access 50% funding towards both accredited and non-accredited courses. We urge SMEs to get in touch with us to find out if the funding applies."
To discuss how bespoke training could benefit your business or to determine if your business is eligible for 50% ESF funding, please contact Coventry & Warwickshire Chamber of Commerce Training's Business Development Team on 024 7623 1122 or enquiries@cw-chambertraining.co.uk
 Pictured is Tracy Sawrey, a Management Trainer at Coventry & Warwickshire Chamber Training.