Chamber Training get involved with MacMillan Coffee Mornings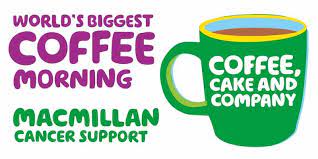 Coventry and Warwickshire Chamber Training is taking part in the World's Biggest Coffee Morning for MacMillan Cancer Support.  The team is planning to host two coffee events on Wednesday 22nd and Friday 24th September 2021 to contribute to raising much-needed funds to support MacMillan with its vital work. 
The team at Chamber Training is committed to making a difference to the wider community and improve the quality of peoples' lives.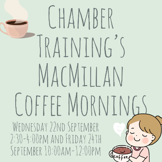 Commenting on the charity coffee events, Reece Palmer, a Training Advisor at Chamber Training who is heading up the events said: "This is an open invitation to everyone including our clients, suppliers, family members and our contacts to join us on either the 22nd September between 2.30 pm and 4.00 pm or the 24th between 10.00 am and 12.00 pm for coffee and networking, with games and cakes to purchase and enjoy.
"There will be plenty of coffee including a cake stall where visitors are welcome to bake cakes or bring in cakes for us to sell.  There will be various games and competitions to enjoy and we are looking forward to a fun-filled couple of hours.
"We are asking visitors to register their interest beforehand so we can keep an eye on numbers.  Please call a member of the team on 024 7623 1122 or enquiries@cw-chambertraining.co.uk and we look forward to welcoming you to the world of Chamber Training."

Sally Lucas, Executive Director at Chamber Training added: "It is a pleasure to be involved in the world's biggest fundraising event to help people facing cancer. We are all getting excited about supporting such a great cause and giving our colleagues and visitors a chance to get together and catch up over coffee and cake.   Coffee mornings like this are so important to help the MacMillan Cancer Support and help towards making sure that nobody has to face cancer alone."
To find out more about Chamber Training, call 024 7623 1122 or enquiries@cw-chambertraining.co.uk