City of Coventry Freemen's Guild Apprentice of the Year Awards 2019

Coventry & Warwickshire Chamber of Commerce Training are delighted as one of their Hairdressing Apprentices has been nominated as a finalist in the City of Coventry Freemen's Guild Apprentice of the Year Awards 2019.
Chloe Taylor is currently undertaking her Apprenticeship with The Cut Above and Coventry and Warwickshire Chamber Training.  She originally started her training on the Youth Enterprise Initiative (YEI) programme to develop some "salon ready" skills and progressed to a Routes to Ambition Training Course.  She used this opportunity to gain more training and a period of time to build on her self-confidence, communication and salon skills.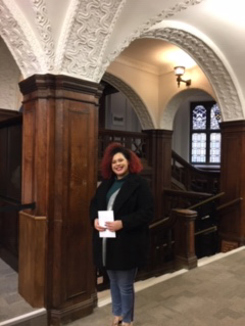 Commenting on Chloe's achievements, Sally Lucas, Executive Director at Chamber Training said: "We are extremely proud of Chloe as she has shown the utmost commitment to her Apprenticeship training.  She has developed high level skills and knowledge of her craft, despite her negative experience in mainstream education and has overcome many barriers in life to build a rewarding career with a positive future.
"At Chamber Training we are currently working with over 700 Apprentices who are aiming to grow and develop into valued members of the workforce. In addition, we are working alongside over 1,000 businesses to help them identify solutions to help their business flourish by developing fresh new talent within their business structure."
Jayne Powell, Hairdressing Tutor at Chamber Training remarked:"Chloe is developing her own client base and demonstrating creativity and imagination.  She strives for perfection in every style she creates, using social media to showcase her work and build her clientele and we are keeping everything crossed for her at the Freemen's Guild awards ceremony on 21st January 2020."
The Freemen Guilds Awards Evening will take place on Tuesday 21st January 2020 at Coombe Abbey Hotel.
For more information on the YEI and Routes programme and how Apprenticeships can help your business, please contact a member of the business development team at Chamber Training on 02476 231 122 or enquiries@cw-chambertraining.co.uk 
Photo caption:
Chloe Taylor is seen here at the Lord Mayor's Reception Suite to meet the judging panel prior to the Awards Dinner which is taking place on 21st January 2020 at Coombe Abbey Hotel,