Congratulations to Sally
Congratulations to Sally Lucas, Executive Director at Coventry & Warwickshire Chamber Training as she officially celebrated 30 years at the firm on American Independence Day.
The board of directors and staff hosted a celebratory lunch for Sally to mark the occasion on 4th July.  Sally joined C&W Chamber Training 30 years ago as a Training Officer as a graduate.  She quickly progressed into management and joined the board in 1999.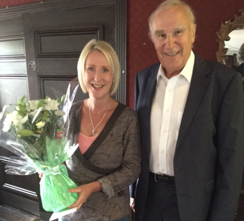 Commenting on her fantastic achievements since joining Chamber Training: "It has certainly been an eventful 30 years and I'm looking forward to an exciting future ahead. The world of skills and training is constantly changing and our main focus at Chamber Training is to support businesses to recruit new talent and help them to upskill their existing workforce through apprenticeships and business to business short courses.
"We have a great team at Chamber Training, people who are passionate about training, supporting individuals and businesses to flourish. It never ceases to amaze me how caring and knowledgeable the team are. This is what makes it a fantastic place to work."
Coventry & Warwickshire Chamber Training is one of the largest providers of apprenticeships and wider vocational training and development in the region.
Photo caption: Sally Lucas, Executive Director is congratulated by Michael Harwood from Michael Harwood & Co as he is also the Chairman of the board at Coventry & Warwickshire's Chamber Training.