Coventry & Warwickshire Chamber of Commerce Training Celebrates Apprenticeship Achievements
Coventry & Warwickshire Chamber of Commerce Training is celebrating the functional skills achievements of all 60 apprentices who received their Maths & English results this week. Leading up to the lock down they had all been working hard on developing their skills in this area ready to take the exams planned between March and July 2020.  As lockdown became apparent all the exams were cancelled which impacted on the progression within their respective apprenticeship programme.
Exceptional times calls for exceptional measures. Fortunately the government responded with mitigation arrangements and it was announced that for these apprentices Tutor Assessment was to be permitted and Centre Assessment Grades were submitted to City & Guilds. A centre assessed grade is the evidence-based, provisional judgement of a candidate's component result which a centre submits to the awarding organisation. The results of which are then confirmed by the Awarding Organisation in our case City & Guilds.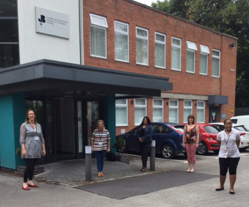 This was something the team at Chamber Training had not experienced before. The teaching team were challenged to devise a process for measuring the attainment of the learners course work to ensure it was up to the standards required. Throughout a 4 week period in June the learners collated all their course work for the tutors to assess culminating in 60 learners achieving 73 qualifications in all.  A few learners also passed their ICT resulting in three achievements for them. 
Jan Ryan Operations Director at Chamber Training stated: "These are unprecedented times that we are working in. As a training provider we remaining agile and are working very hard to ensure our apprentices reach their planned goals by applying all of the opportunities presented. This has been a real change in the way we operate and I am pleased to see the staff and all the apprentices rewarded for all their hard work. Demonstrating high level literacy and numeracy skills is essential to succeed in today's workforce and as a result of this achievement our learners can go forwards and prosper with their roles."
To find out more about how Apprenticeships can help you and your business, please call the Business Development Team at Chamber Training on 024 7623 1122 or enquiries@cw-chambertraining.co.uk
Photo caption: Shown are the socially distanced Chamber Training teaching team (L to R): Jemma Anspach, Sarah Williams, Heena Chauhan, Angela Williams and Carla George.