ILM Level 3 in Leadership and Management - Start Date 9th September 2019

Are you looking to develop your team in leadership and management skills?
The ILM Level 3 is ideal for individuals seeking to build key management skills, develop leadership capability, understand team motivation and confidently manage people. 
Funding may be available to support your staff to develop the skills required to take your business to the next level.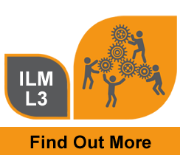 The ILM Level 3 is a first line management course that gives an introduction to the skills, knowledge and understanding required by today's first line manager.  This qualification is particularly suited to practising team leaders seeking to move up to the next level of management.
Key Content:
Developing knowledge in how to recognise, define, investigate and analyse problems
Developing an understanding of factors that influence motivation
Using and gathering knowledge to solve problems and make decisions
Understanding theory of motivation and use it to improve performance
Suggested roles to benefit from ILM 3 training include: 
Supervisors
Team Leaders
Shift Supervisors
First Line Managers
Impact for the Employer
Managers equipped with the skills they need to perform
Staff who are competent to manage people and relationships 
Incentivised staff who aspire to develop to their full potential
Improved communication and collaboration in teams
Feedback from two delegates who attended the ILM level 3:

"All modules were very useful but I really enjoyed the motivation module so  I will now apply this knowledge with greater structure."
 
Doug Collins, Dunlop Systems and Components on the ILM L3 Diploma in Leadership and Management

"I enjoyed the open discussions and the skills I have learnt will improve my management approach."
 
Martyn Lewis, PENSO on the ILM L3 Diploma in Leadership and Management
CLICK HERE to find out more about ILM level 3.
To discuss the best options for you, please contact our Business Development Team on enquiries@cw-chambertraining.co.uk or call us on 024 7623 1122. 

Skills 4 Growth:
 Up to 50% funding may be available with selected courses, subject to eligibility, through Coventry & Warwickshire Skills 4 Growth which supports eligible SMEs to improve skills amongst their workforce.
 For an eligibility test, contact us on:
02476 231 122
or enquiries@cw-chambertraining.co.uk