Working Closely with the NHS
Coventry & Warwickshire Chamber Training are celebrating their success in securing a number of contracts with NHS hospitals and Trusts across Coventry & Warwickshire to support the development of the workforce through apprenticeships.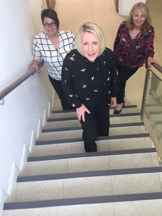 The specialist team at Chamber Training has been awarded contracts to work with the NHS at University Hospital Coventry & Warwickshire, George Eliot Hospital in Nuneaton and Coventry & Warwickshire Partnership Trust.  
Contracts are for the delivery of apprenticeships in business administration, customer service, management and health and social care from level 2 to level 5 and are part of the NHS Trust's plan to utilise their Apprenticeship Levy fund to create a highly skilled workforce. The partnership between Coventry & Warwickshire Chamber Training and the NHS Trusts demonstrates how organisations can effectively develop teams, build skills and knowledge and create an environment in which individuals can thrive.
Sally Lucas, Executive Director at Coventry and Warwickshire Chamber Training commented: "The tendering process was highly competitive but we were able to use our proven track record and wealth of experience in the delivery of apprenticeships to be successful.
"We are delighted to be working with the NHS and relish the opportunity to work in partnership to develop the skills to enable the NHS to provide services vital for the local community."
Chamber Training is one of the largest providers of apprenticeships and wider vocational training and development in the region, with more than 30 years' experience. The specialist team supports businesses in recruiting new talent as well as helping employers to upskill their existing workforce by designing and delivering tailored apprenticeships on a business by business basis.
To find out more, call Chamber Training's Business Development Team on Tel: 02476 231 122 or enquiries@cw-chambertraining.co.uk