A Challenge for Spanish Juani
Juani Phillips moved to the UK from Spain over 32 years ago and started her career in Health & Social Care. Her first job in the UK was a 'live-in carer' and she now works for Carewatch South Warwickshire as a support worker based in Leamington Spa.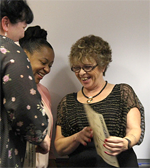 Juani has undertaken the Health & Social Care Advanced Apprenticeship with Coventry & Warwickshire Chamber of Commerce Training. Juani not only completed all her work to a very high standard but also head of her planned end date.
Juani said "I have learnt so much by completing the Apprenticeship, the knowledge behind all the things I do on a daily basis. I now have the skills and knowledge to support me in my career. I have been stretched and challenged during the training with my understanding of staff development, nutrition and medication. I have enjoyed every bit of it, well worth doing the course."
Training advisor for Chamber Training Sarah Bratby nominated Juani for the Apprentice of the year award, which took place in September. Sarah said "Juani has worked so hard and is so dedicated to her work; she has gained so much confidence and now believes in her abilities. She is a star."