Molly Wins Apprentice of the Year Award
Apprentice Molly Alcock from HR Dept has scooped the award for 'Apprentice of the Year' at the Warwickshire Employee of the Year Awards 2016, after helping to develop the business by transforming the company's social media strategy.
Molly joined The HR Dept in summer 2015 after completing her A-levels at Coundon Court Academy. "After considering the option of going onto University, I decided an apprenticeship would be more suitable for me as I was very keen to start my career as soon as possible."
Molly"The apprenticeship has given me the chance to further my education whilst starting on the career ladder and has been very rewarding for me in so many ways. I can see my own achievements and development, but to have so many other people see them too makes it even more special. I'm thrilled to have won this award."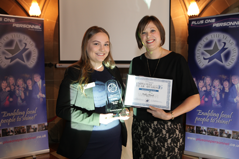 Molly's employer organisation, The HR Dept South Warwickshire, was established in 2005 and offers a wide range of outsourced HR services, tailor-made to suit business needs. Tracey Hudson, Director of The HR Dept in Kenilworth said: "We are very proud of Molly. She has worked so hard on the development of our social media platforms and the marketing side of the business, helping with our workshops and exhibitions."
Molly is currently completing the Business Administration Apprenticeship with Coventry & Warwickshire Chamber Training. Business Administration provides a diverse range of opportunities, operating in all types of businesses; many of which can develop into managerial positions.