Accountancy Firm Engages in Growth
Armstrongs Chartered Accountants has seen an exciting period of rapid growth by establishing a team of qualified accountants and apprentices who are creating opportunities for others to follow.
Established in 1979, the award winning firm of chartered accountants serves a large and diverse client base across its two offices in Coventry and Nuneaton. The team deals with a broad range of clients which includes everything from sole traders right through to audited group accounts. 
In addition, by offering an added value service to its clients they can benefit from tax compliance advice and high-net worth individuals can also seek advice on tax strategies and planning as well as corporate finance, such as business disposal and acquisition.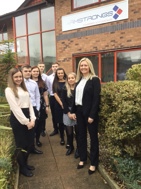 The accountancy firm's three directors; Sarah Van Ristell, Paul Farmer and Muhammed Shabbir formed a close working partnership with Chamber Training a number of years ago and currently have seven apprentices.  They are at various levels of training from AAT Level 2 to AAT Level 4 and the directors are planning to take on another two apprentices later this year.
Commenting on how the apprentices have helped the accountancy firm to build a strong team of enthusiastic trainees and management candidates, Sarah Van Ristell, a director at Armstrongs Chartered Accountants said: "Taking on apprentices is definitely the way forward as the process works extremely well for us. We pride ourselves on being a modern and dynamic accountancy practice and our apprentices are hands-on with technology and keen to take on new projects. The team at Chamber Training provides our apprentices with the training required and we offer them employment and a bright future."
 "By employing the right apprentices, we have seen a huge increase in productivity and work flow.  We see our apprentices as the next level of seniors for the firm, so it's important they have the best training on offer.  We are also proud to say that one of our apprentices, James Spencer Branagh entered the Young Pro Awards this year and was highly commended as Apprentice of the Year, so we have clearly made the best choices!"
Photo caption: Sarah Van Ristell, a director at Armstrongs Chartered Accountants is seen here with (L to R): Jordon Knowles, Crosby Brent-Jones, Laura Doolan, James Spencer Branagh, Nathan Scullion, Ciara Jordan and Ashleigh Tucker