Building Leadership Skills
Chamber Training is working in partnership with Citizens Advice Coventry to help develop and enhance management skills across their workforce.  The charity, which has been based in Coventry for nearly 78 years, has a reputation for high quality provision of advice services and was keen to look into funding for skills training.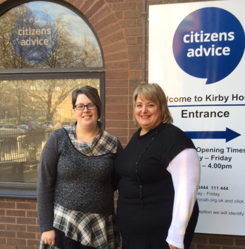 Julie Faulkner, Integration Project Manager at Citizens Advice Coventry said: "Our organisation was going through a period of change and I was asked to look into viable funding offers to help upskill the project management team with training and qualifications. I spoke to Natalie Lane our account manager at Chamber Training and she checked our eligibility for Skills 4 Growth funding. The training application was successful and the company is now looking to close skills gaps across our services.
"In order to help my own personal development and skillset, with the support of Coventry Citizens Advice, I embarked on ILM Level 5 Diploma in Leadership and Management with Chamber Training.  The course has given me the ability to see what we've done well and where we could have done a little better across our work.  I've brought my newly acquired skills and experience back into the organisation whilst my employers have also benefitted, not only from the funding but from the skills support available to local businesses.  It's a win for everyone and offers a great way to gain quality, academic study."
Natalie Lane, Account Manager at Chamber Training remarked: "Citizens Advice Coventry has also benefitted by placing two of their senior integration officers onto the ILM 3 Award in Leadership and Management, building leadership capabilities and developing teams throughout the charity. We encourage small to medium sized companies with under 250 staff to get in touch with us so we can check eligibility for Skills 4 Growth."
The ILM qualifications in Leadership and Management are designed for practising middle/senior managers to help develop skills and experience, improve performance and prepare for senior management responsibilities.   For more information, please contact Chamber Training's Business Development Team on 024 7623 1122 or enquiries@cw-chambertraining.co.uk  

Coventry & Warwickshire Skills 4 Growth is part-funded by the European Social Fund and receives further funding support from Coventry City Council and Warwickshire County Council.
Photo caption: From left to right: Natalie Lane is shown with Julie Faulkner from Coventry Citizens Advice