Coventry Apprentice Wins Award
Georgia, an apprentice from Dafferns LLP, Chartered Accountants & Business Advisers has seen her career flourish after winning the Coventry Freeman's Guild Apprentice of the Year Award 2017, whilst undertaking her AAT training with Coventry & Warwickshire Chamber Training.
Commenting on her award, Georgia Gaga said: "In 2015, I applied for an apprenticeship with Dafferns as I wanted to learn my chosen career within an accountancy workplace environment rather than purely classroom-based learning. Having been encouraged by Dafferns to complete my A levels and join a year later I was able to fast track to AAT level 3 due to my A level grades, which saved valuable time."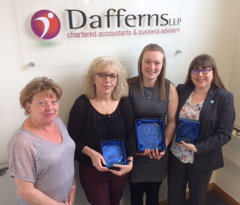 "Since winning the award last year, my confidence has grown and my ambition of becoming a fully qualified Chartered Accountant now seems more achievable. I have also been able to take on a leadership role within Dafferns that enables me to support other apprentices at our firm. The skills I have learnt throughout my apprenticeship are also being applied to voluntary roles such as my position as Treasurer to the scouts and chief leader for a local cubs group."
"Working alongside Karen Devany and her team at Coventry & Warwickshire Chamber Training has given me invaluable support which has helped me to develop a structured career path. Winning the award has also opened doors for me as I have received an invitation to the VIP Day for HMS Diamond, which I'm absolutely delighted about."
Commenting on Georgia's success, Deborah Austin, Senior Manager at Dafferns said: "Over the past seven years we have been working in partnership with C&W Chamber Training and we continue to recognise and appreciate the value of apprenticeships. Georgia is an inspiration to all of our trainees and we look forward to her continued development.  We are looking forward to working with the team at Chamber Training as they deliver the AAT qualification under the new national apprenticeship scheme and seeing the impact this has on our apprentices at Dafferns."
Dafferns LLP has been providing accountancy, taxation and business advisory services to businesses and individuals since 1896.  The firm has over 40 staff based at their main offices in Coventry.
Photo caption: L-R:  Karen Devany, Jan Ryan, Georgia Gaga and Deborah Austin are shown with the City of Coventry Freemen's Guild Awards.