Wolf Run Success 2017 Update
We are delighted to share with you that our Health & Social Care team presented The Myton Hospices with a cheque for the money raised from the team's participation in the Wolf Run 2017.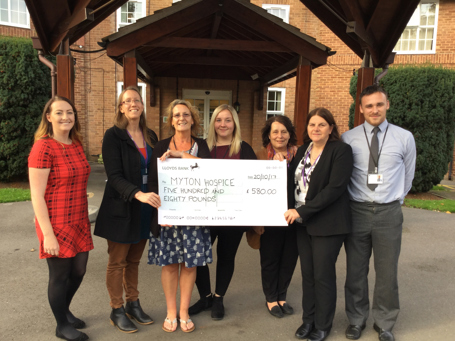 The total raised was updated from the previous £500 to £580.
Diana Jackson, Sector Lead of the Health and Social Care Team at CWCT who was part of the Wolf Run team commented: "We are delighted to have raised such a fantastic sum of money for Myton Hospice.  
"Myton Hospice focuses on enhancing life when a cure is no longer an option.  This year they have to raise £8.8 million to continue providing this vital care, so I'm sure the money we raised will be welcomed."
Photo caption: The Health and Social Care Team of C&W Chamber Training are seen presenting £580 to Myton Hospices.
CLICK HERE to see the original story and photo of the CWCT team at The Wolf Run 2017.